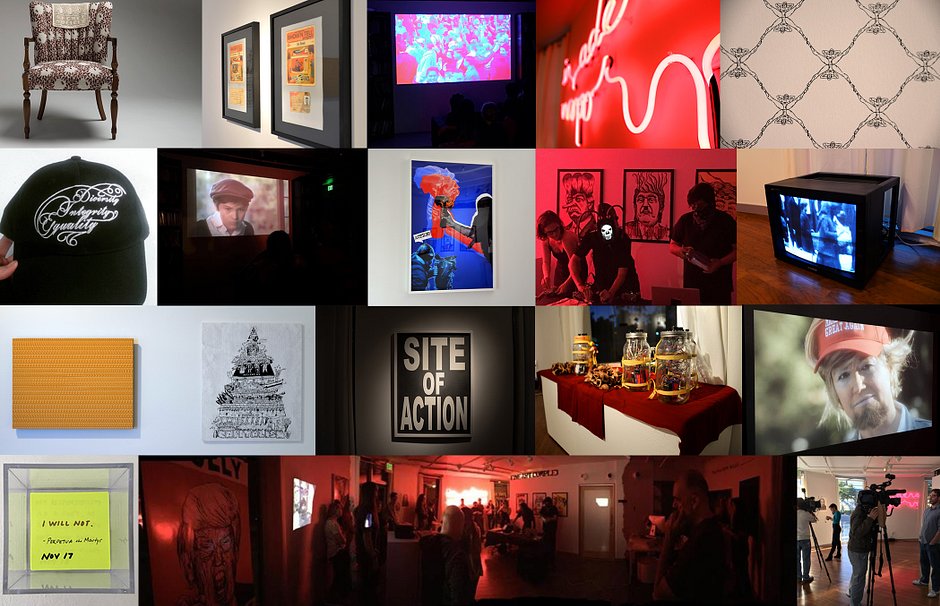 This Machine Kills ________
THIS MACHINE KILLS__________________
The title of the show directly references American folk legend Woody Guthrie's iconic guitar text " This Machine Kills Fascists", itself a protest piece recreting the musician's leftist political views. The phrase has been repeatedly adapted by artists and activists, most recently by punk royalty Buzz Osborne of the Melvins for a 2014 solo album named "This Machine Kills Artists". In 2012, journalist Andy Greenberg published a novel titled This Machine Kills Secrets: Julian Assange, the Cypherpunks, and their Fight to Empower Whistleblowers. A reference to the phrase has also been made in the post-apocalyptic themed video game Fallout 4 in which the words "WELL THIS MACHINE KILLS COMMIES" is etched into the side of a rifle. The title for this exhibition has been intentionally left incomplete, leaving interpretation open to the artist and/or viewer.

Guthrie originally wrote the "patriotic" ballad "This Land is Your Land" as a social commentary on what he saw as fascism in America. He penned politically nuanced songs but generally sided with Communist ideals. His experiences during the Great Depression and Dust Bowl era parallel what many citizens are experiencing in modern day America.

"This Land is Your Land" contains often redacted lyrics containing references to borders and food lines for the poor. In an untitled song, he criticizes real estate magnate Fred Trump, the father of presidential candidate Donald Trump. The lyrics were written at a time when he himself was living in tenements owned by the elder Trump. Guthrie's lyrics reflected his thoughts on Trump's unethical business practices:

Beach Haven looks like heaven
Where no black ones come to roam!
No, no, no! Old Man Trump!
Old Beach Haven ain't my home!
This Machine Kills_____ seeks to explore the relationship between art, music and politics during a volatile election cycle. Featuring artists from Arizona, California and Mexico, the exhibition utilizes the historically significant function of protest art as an opposition to technologically prolific forms of media. Most works will consist of propaganda style posters and prints, though there will be several types of media represented. The gallery will be screening a new film by artists Bruce Yonemoto and Karen Finley in conjunction with this exhibition.
Film Screening by: Karen Finley and Bruce Yonemoto (LA) and Rembrandt Quilballo (AZ)
Opening night performances by: Phoenix based art collective Radio Healer.
Artists in the show: Mely Barragan (TJ), Cindy Santos Bravo (San Diego/LA), Gomez Bueno (LA), Temoc Camacho (Guadalajara), Robbie Conal (LA), Jeff Chabot (PHX), Sean Deckert (PHX/LA), Karla Diaz (LA), Victoria Delgadillo (LA), Veronica Duarte (LA), Cristian Franco (Guadalajara), Jason Gonzalez (Mesa), Olga Gutierrez (Guadalajara), Carlos Hernandez (LA), Luis G. Hernandez (SoCal/Mexicali), Julio Cesar Morales (Tempe, TJ), Ann Morton (PHX), Karl Petion (LA), Radio Healer (Mesa), Daniel Ruanova (TJ), and Christopher Vena (AZ).
ARTIST BIOS: Link
THE CURATORS
Bio: Ed Gomez
Ed Gomez is an artist, curator, and educator who received his BFA in Painting from Arizona State University in 1999 and his MFA in Painting from the Otis College of Art and Design in 2003. Since then he has been exhibiting his work nationally and internationally and curating various art exhibitions that deal with the region of California and Mexico as an area of aesthetic production.
Ed Gomez's interdisciplinary art practice revolves around the questioning of exhibition practices, institutional framework and historical models of artistic production. In 2006, he co-founded the MexiCali Biennial, a bi-national art and music program addressing the region of the US-Mexico border, which he is currently a director and co-president. This project serves not only as a curatorial project but also a satirical statement to the abundance of biennials occurring around the globe and the impact they have on the art community. Mr. Gomez is also the director of G.O.C.A., The Gallery of Contemporary Art, which is a traveling self-contained exhibition space humorously located in his suitcase. It has showcased emerging and established artists from Los Angeles, Phoenix, New York and Mexico. He is currently an Assistant Professor of Sculpture at California State University San Bernardino.
Bio: Luis G. Hernandez
Luis G. Hernandez is an artist and curator who lives and works between Southern California and Mexicali, Mexico. Hernandez' aesthetic production consists of sculptures, paintings, drawing, collages, and installations that respond in subtle ways to the space where they are exhibited. The artist makes provocative, humorous, and many times absurd associations between context, materials, and language, working through these elements as if they were sculptural spaces, and incorporating subject matter that points to art history, politics, and border issues.
In 2006, Luis G. Hernandez and artist Ed Gomez co-founded the MexiCali Biennial, a non profit that grants exposure to artists and locations often overlooked in the contemporary arts of Southern California and Mexico. The MexiCali Biennial remains to serve not only as a curatorial/art project, but also as a satirical platform upon which to question the abundance of biennials occurring around the globe and the impact they have on the art community. The last edition of the MexiCali Biennial took place in 2013 and was held at the Vincent Price Art Museum, Los Angeles; Jaus Gallery, Santa Monica; Mexicali Rose: Centro de Artes/Medios, Mexicali; and Facultad de Artes, UABC, campus Mexicali.
Solo exhibitions of the artist include: A Temporary Thing, Artere-a, Guadalajara, Mexico (2016); Untitled #53, Proxy Gallery, Los Angeles (2015); Variantes, Robert and Frances Fullerton Museum of Art, San Bernardino, CA (2012). Recent group exhibitions include: Customizing Language, Los Angeles Contemporary Exhibitions, Los Angeles (2016); Coleccion Elias Fontes: Historia y Relato, El Cubo, CECUT, Tijuana (2016); Punk Povera, WUHO, Los Angeles (2016); REVISION GLOCAL/REVIEW / BEIJING-TIJUANA 2012-2015, Cecut, Tijuana (2015); Acciones Territoriales, Ex Teresa Arte Actual, Mexico City (2014).
Luis G. Hernandez is the current director of Steppling Gallery at San Diego State University-IV Campus. He earned his MFA from Otis College of Art in 2003.
Bio: April Lillard-Gomez
April Lillard-Gomez is an independent curator, arts administrator and arts advocate. She has sat on the board of directors and is currently an administrator of the MexiCali Biennial since its inception in 2006. She specializes in grant-writing, media relations and fostering collaborative opportunities between artists and arts organizations. Research topics and curatorial interests include New Americana, the border as a means of aesthetic production and art as protest. Past curatorial projects include Mass Emergencies at Angels Gate Cultural Center in San Pedro which focused on crisis and disaster protocols in post-apocalyptic Long Beach and S.O.S. (Save Our States), a traveling exhibition dealing with inter-state relations following the passing of AZ Prop1070.